Since it is nearing fall, which means I, like many others, am going back to school. As a final hoorah, I am going to judge school required reading from our class orders shelves.
DISCLAIMER: Most of these are pretty unknown because I've read a lot of the known ones. Darn school *shakes fist angrily at the sky.*
The Curious Incident of the Dog in the Nighttime by Mark Haddon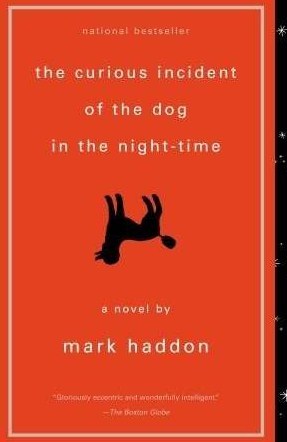 At first, when you look at the orange cover, it only shows a silhouette of a dog upside down. This makes me think the dog died, because that happens with tarantulas/spiders/and such. I open the little cover to the quotes (which I did not read) it showed a car. So the curious incident is the dog dying because it was hit by a car. I think the story is the main character (maybe a boy) decides to find out who did it and seek Clint-Eastwood-inspired revenge against the person who killed his dog.
Actual plot: Christopher John Francis Boone knows all the countries of the world and their capitals and every prime number up to 7,057. He relates well to animals but has no understanding of human emotions. He cannot stand to be touched. And he detests the color yellow. Although gifted with a superbly logical brain, for fifteen-year-old Christopher everyday interactions and admonishments have little meaning. He lives on patterns, rules, and a diagram kept in his pocket. Then one day, a neighbor's dog, Wellington, is killed and his carefully constructive universe is threatened. Christopher sets out to solve the murder in the style of his favorite (logical) detective, Sherlock Holmes.
Was I close? I actually was! But how was I supposed to get "great with numbers" from that cover? And I also missed the fact it was actually the neighbor's dog. I'll give myself a 90%, which I consider a victory.
The House on Mango Street by Sandra Cisneros
If I wanted to be cheeky/flippant I'd say in a dramatic tone with numerous pauses for dramatic effect: "This is about... a house... on Mango Street." But since this is my last week, I'll put in more effort than that. There's a woman in the window, and she's probably the focus. In a wild guess, I'd have to say this is about a woman who owns a boarding house and lets in numerous people that help shape the way she sees the world.
Actual plot: Told in a series of vignettes – sometimes heartbreaking, sometimes deeply joyous – it is the story of a young Latina girl growing up in Chicago, inventing for herself who and what she will become. Few other books in our time have touched so many readers.
Was I close? Not. At. All. I am a failure. 2%, because I completely missed the idea of this book haha. I laugh, but it's to cover up my pain.
The Importance of Being Earnest by Oscar Wilde
In this cover, it's a painting of a guy in a fancy hat (
yay fancy hats!
) being surrounded by people. He seems like a charismatic guy, and the art style and clothing in the painting tells me it's set in the 1800s. I saw some other covers as well along with the movie cover, and they included a woman. Plus, rumor has it that it's a romantic comedy. So I want to guess this is a comedy about a guy named Ernest who is "in need of a wife." And more fancy hats.
Actual Plot: Cecily Cardew and Gwendolen Fairfax are both in love with the same mythical suitor. Jack Worthing has wooed Gwendolen as Ernest while Algernon has also posed as Ernest to win the heart of Jack's ward, Cecily. When all four arrive at Jack's country home on the same weekend the "rivals" to fight for Ernest s undivided attention and the "Ernests" to claim their beloveds pandemonium breaks loose. Only a senile nursemaid and an old, discarded hand-bag can save the day!
Was I close? I respond with a resounding "Ehhh maybe". I didn't get any of the romantic entanglements, but I think I got the gist. And the gist is worth a solid 70.5%. It's about courting and suiting and deceit, but none of that showed in the cover IMHO.
So this is my last post of the summer! Sadness. Thank you for reading through these year through year, I greatly appreciate it. I will try to post more this year, but it's my senior year. *gasp of simultaneous sadness and happiness*
Farewell for now!
Owyn the Intern