Hello, welcome back to the fourth installment of "Judging Books By Their Covers." This time, we're delving deep into the world of romance. Wish me luck!
The Summer House by Santa Montefiore
The cover features a woman wearing a fancy straw hat and fancy shirt, implying this is a romance between rich people. Especially since many rich people have summer houses, which is the title. One of the blurbs says it's a romance, so I'm going to say it's an affair, whether actual or emotional, between two rich people in a place like the Hampton's filled with romance and deceit and more fancy hats and a really pretty house.
Actually About: When Lord Frampton dies in a skiing accident, a beautiful young woman named Phaedra appears at his funeral—claiming to be the Lord's illegitimate daughter. In his will, Lord Frampton has left the priceless Frampton suite of sapphires to this interloper, confirming her claim and outraging his three adult sons and widow. Eventually, however, Phaedra's sweet nature thaws the frosty relationships. She becomes the daughter that Antoinette Frampton never had and a wise and compassionate granddaughter to the formidable Dowager Lady Frampton. But an attraction grows between Phaedra and the eldest son, David. It seems an impossible love—blocked by their blood connection and by the fury of one family member who is determined to expose Phaedra as a fraud.
Was I close: Kind of. I got the affair and deceit part, but in a different situation. But the people having the affair (or at least sexual tension) are potentially related. Which is gross. And the deceit is whether or not Phaedra is lying about being related to the Lord. I give myself 85%, since I got the major things. (And how was I supposed to guess a relationship between maybe half-siblings? My mind doesn't go to that place.)
Sight Reading by Daphne Kalotay
The cover is of a woman wearing a red rain jacket holding a instrument case that I'm going to say houses a violin. The title Sight Reading is definitely a music term I've heard before, but I have forgotten what it means. I think it has something to do with how you read the music, but more spontaneously. But don't hold me to that. My formal guess is this is about a classically-trained musician woman who falls for some reckless boy who teaches her how to let loose and have fun.
Actual plot: It has been twenty years since Remy, a conservatory student whose ambition may outstrip her talent; Nicholas, a wunderkind suddenly struggling with a masterwork he cannot fully realize; and his wife, beautiful and fragile Hazel, first came together and tipped their collective world on its axis. Over the decades, each has buried disappointments and betrayals that now threaten to undermine their happiness. But as their entwined stories unfold from 1987 to 2007, from Europe to America, from conservatory life to the Boston Symphony Orchestra, each will discover the surprising ways in which the quest to create something real and true--be it a work of art or one's own life--can lead to the most personal of revelations, including the unearthing of secrets we keep, even from ourselves.
Was I close?: Sorta. It is about violinists, but instead of letting loose and having fun, it's a love triangle like situation where two old friends meet after a while but one is married to the other's old crush. Being kind, I'll give myself a 55.9%. But I'm giving myself a 2% bonus since I remembered the fact "sight reading" is a music term. 57.9%!
Wedding Night by Sophie Kinsella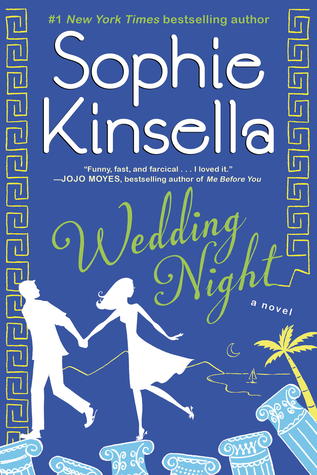 The cover has a man and a woman, hand in hand, running on top of old-fashioned pedestals. Plus, it has these accents of boxes that remind me of a Greek Mythology book I read when I was younger, so I'm going to say this is set in Greece. Given the title, I'm going to guess that it's about a couple going on an adventure of hilarious and crazy proportions on the honeymoon in Greece.
Actual plot: Lottie just knows that her boyfriend is going to propose, but then his big question involves a trip abroad—not a trip down the aisle. Completely crushed, Lottie reconnects with an old flame, and they decide to take drastic action. No dates, no moving in together, they'll just get married . . . right now. Her sister, Fliss, thinks Lottie is making a terrible mistake, and will do anything to stop her. But Lottie is determined to say "I do," for better, or for worse.
Was I close?: Again, I was close enough and got the basic plot. It does feature a wacky marriage in Greece, but in a different context. The context being a girl obsessed with getting married so she marries an old flame instead, with wacky consequences. I hereby give myself 80%. Yay!
Wow, I'm surprised I did so well. As we can recall, I usually fall flat on my face with at least one of these. But all these were above 50%. Victory!
See you in the next post!
Owyn the Intern